Welcome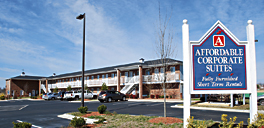 Affordable Corporate Suites provides spacious, upscale accommodations which are truly affordable, with all the amenities you need to be comfortable while you're on the road. With eleven locations in Virginia and North Carolina, our guests find our suites convenient for business travel, relocation, temporary housing or vacations.
Free yourself from the confines of your average hotel room. Every suite has a full sized kitchen so you can cook and eat on your own schedule. A separate bedroom makes it more comfortable… more like home. Spend more time relaxing and less money on your next trip for business or leisure.
Our extended stay amenities include queen-size beds in every suite, weekly housekeeping service provides towels and linens, expanded cable TV with HBO in both the living and and bedroom, DVD players, laundry facility, telephone, and free high-speed Internet. All units are non-smoking, and we now offer limited units with two beds.
We offer three key advantages over competing hotels:
Extreme cleanliness – Our Number One corporate initiative that the owner Lance Copperman stands for. Look at the customer reviews to see how much it's appreciated by customers!
Blazing fast internet – We offer the highest-speed Internet available from commercial providers in each community, including both plug-in Ethernet and Wifi throughout each facility.
Great comfortable beds – High-quality, pillow-top mattresses guarantee you a good night's sleep in our quiet hotels!
Just how affordable are our suites? Starting at $79.00 per night or less than $41.00 per night( based on our weekly stay deals which includes 7 full nights.) We know there is no better value available. All amenities are included in our rates.
Click here to take a visual tour of our suites, then call the location of your choice to make a reservation!
You're Home
With our fast check-in and fully furnished and equipped suites, you are ready to move in and relax. We provide all the utilities, linens, appliances and kitchen utensils. Our quiet, well lit locations, as well as a Resident Manager at each property, assures security for you when you're in need of temporary housing.
It's Easy
Start by contacting the property where you want to stay. Our Resident Managers will help with your schedule. Once you arrive, it's as easy as checking into a hotel. There are no lease requirements and you are welcome to stay as long as you like.
Your spacious suite is equipped with all the essential amenities for work and relaxation, all at a great rate. It doesn't get easier…or better… or more affordable than Affordable Corporate Suites! We look forward to hosting you soon!