Waynesboro VA - Affordable Corporate Suites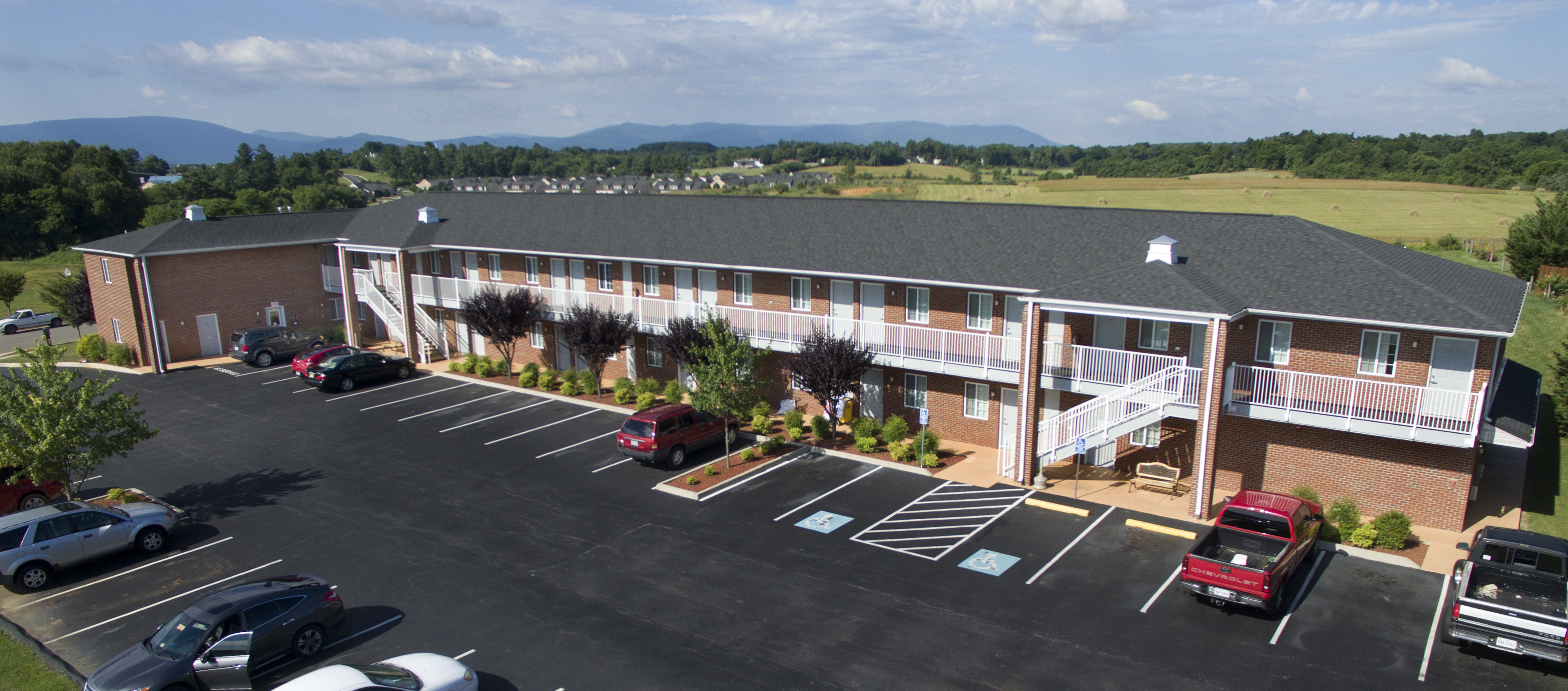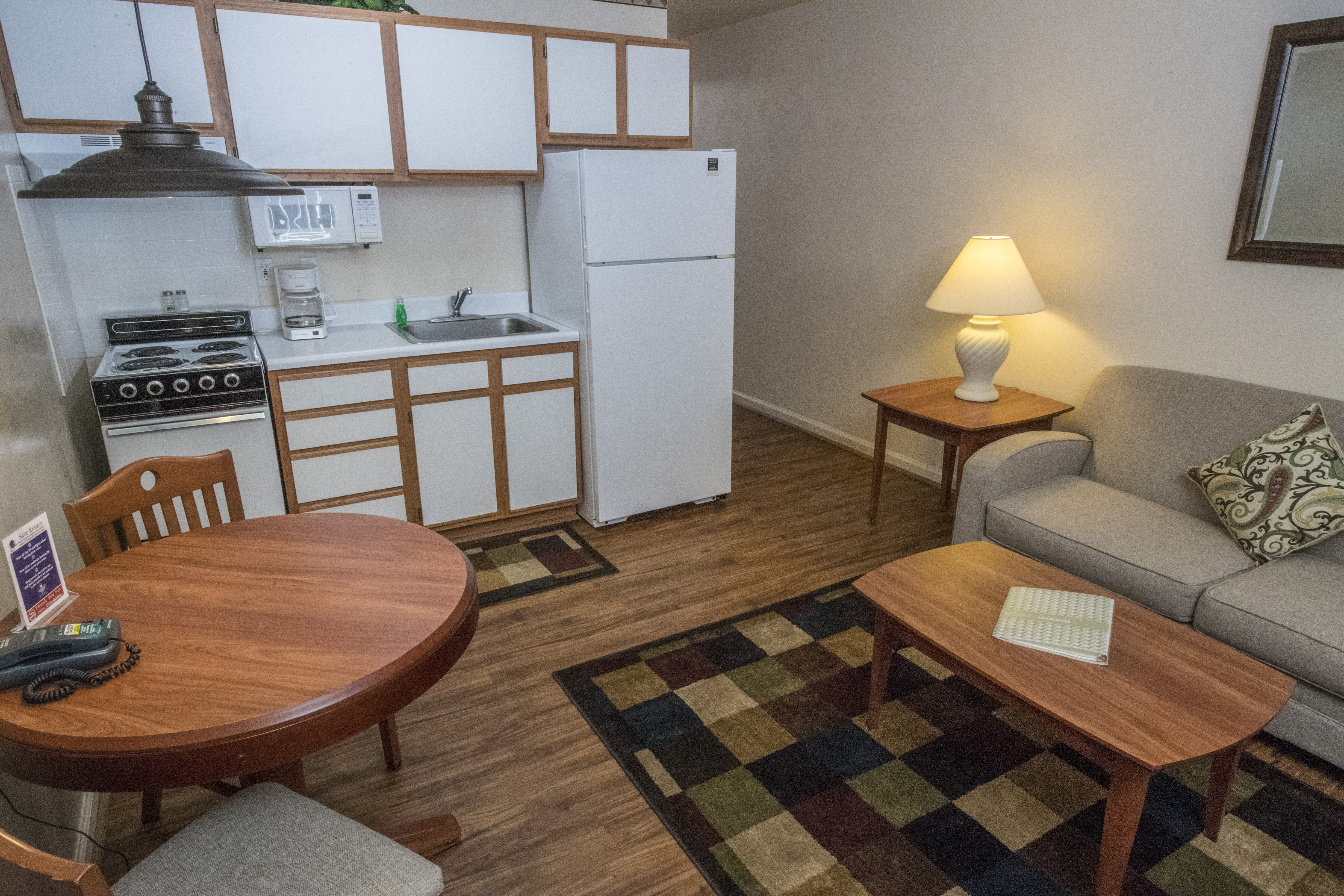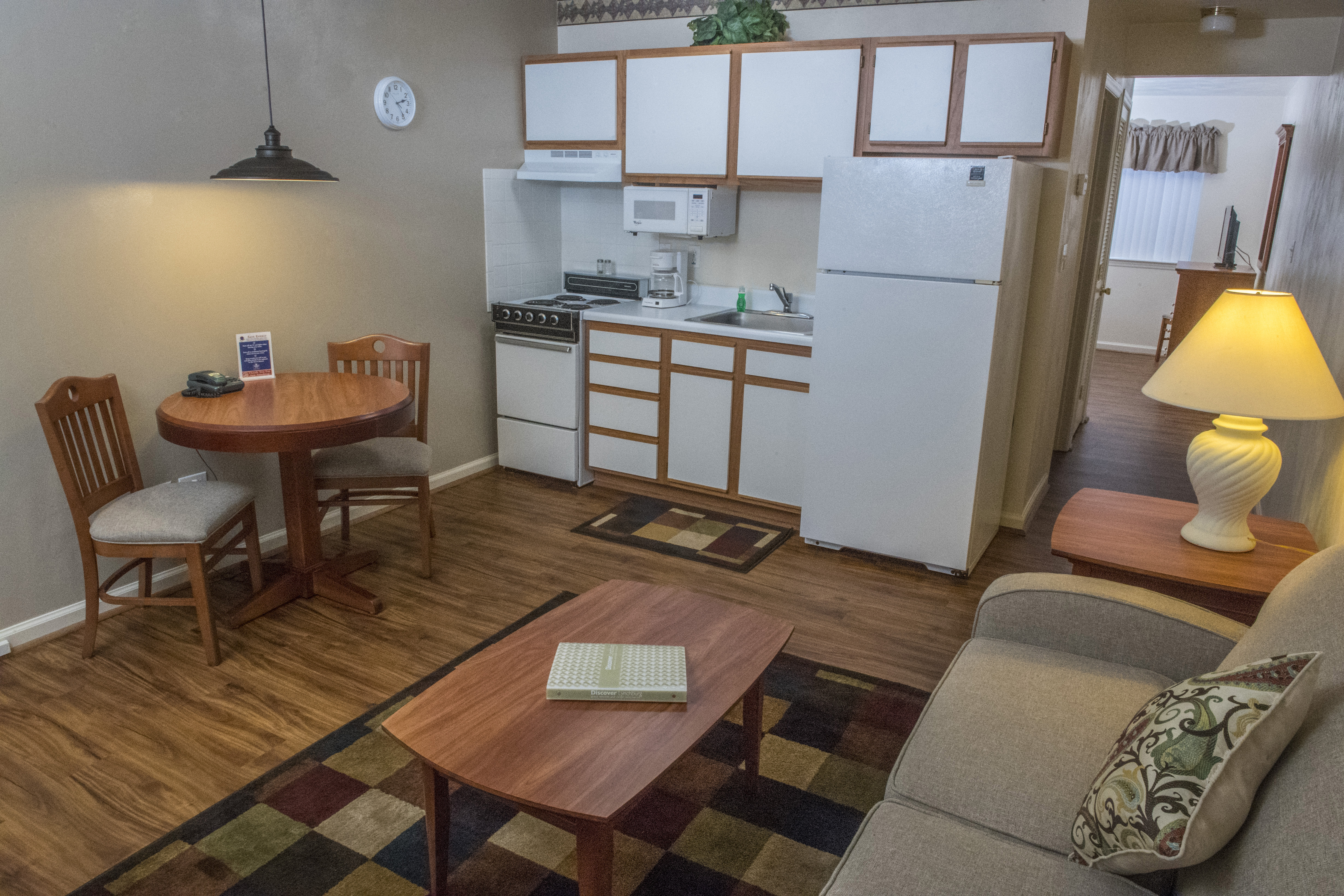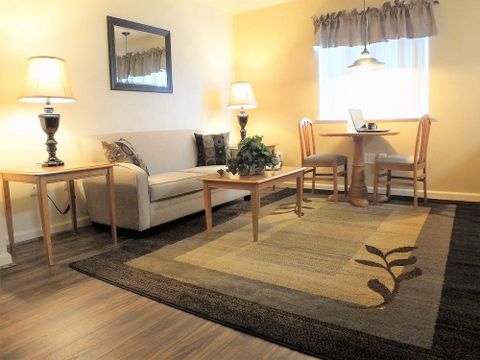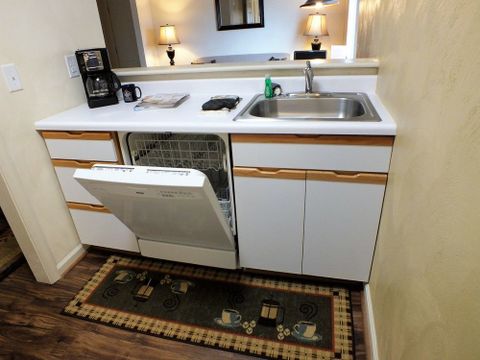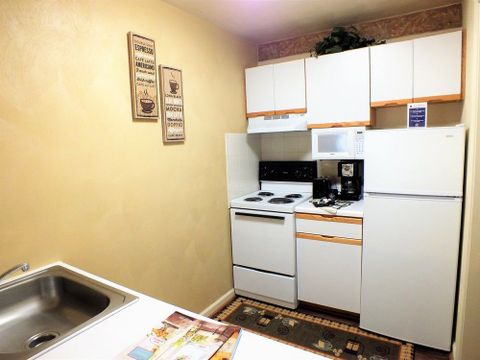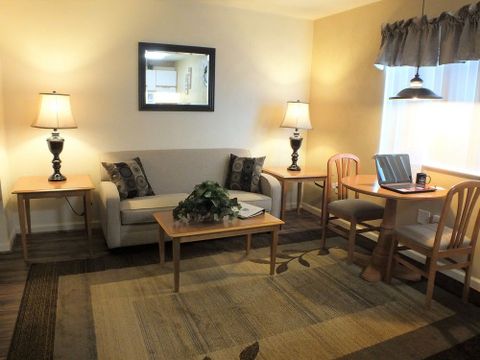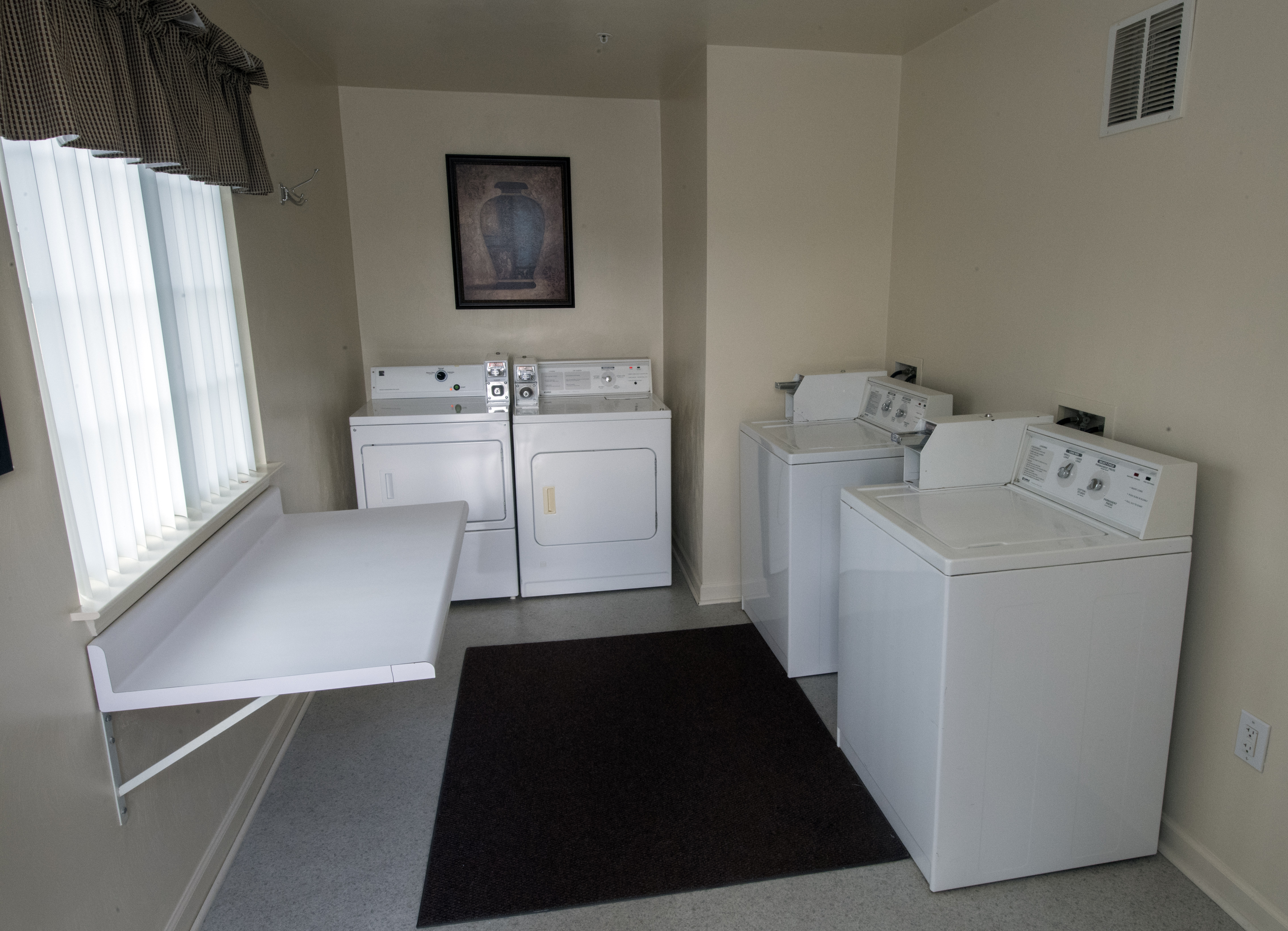 Photo on the right shows newly renovated rooms with hardwood floors.
To Make a Reservation, Call 888-334-5918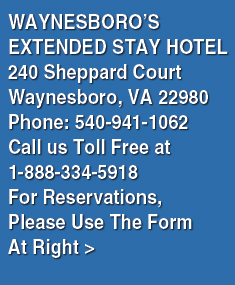 The City of Waynesboro has the unique position of being the Crossroads of the Shenandoah Valley. It's located at the junction of I-81 and I-64, routes 11 and 250 and the entrance to the Blue Ridge Parkway and Skyline Drive. Travelers are welcomed at attractions such as the Woodrow Wilson Presidential Library and Birthplace, Frontier Culture Museum, Grand Caverns, Natural Chimneys, along with the P. Buckley Moss Museum, the Artisans Center of Virginia and world famous Andre Viette Nursery. And, of course, the scenic views of nearby mountains from Affordable Corporate Suites.
We are located off Lew DeWitt Boulevard, just 1 mile from Interstate 64, 8 miles from Interstate 81 and the City of Staunton and just 25 minutes to Charlottesville and The University of Virginia.
Our fully furnished suites include all utilities, HDTV with HBO and DVD player, phone service and free high-speed Internet. Weekly housekeeping provides your towels and linens. The separate bedroom has a queen-sized pillow-top bed and large closet. The kitchen has dishes and full-sized appliances. There are laundry facilities on site. There is a security deposit required. All locations are smoke free.
Read or Write a Review

 
Customer Reviews for Waynesboro, VA:
Damon Krongold of Inverness, FL, writes, "This review is a long time coming and we apologize for that! We have been staying at this property for years. Lynn has always exceeded our expectations and we no longer have any thoughts about how great our stay will turn out. Rooms and the property are immaculately cared for and we would, and have, recommended this property to any going to Waynesboro.  Thanks for caring!!"
James Salkeld of Hendersonville, NC, says, "I've stayed at this facility numerous times and ALWAYS found it warm, clean, and inviting.  The 'keeper of the gate' couldn't be any nicer, and the return on your money borders on the absurdly good.  Fact is I'm on my way there again shortly."
Sara Tootoo, Wilmington, NC, says, "I couldn't have asked for a better lodging accommodation for my 1st travel work assignment!!  The room is a comfortable size with everything you would need plus a very convenient location to stores, restaurants, and interstate.  The ladies, Lynn and Pam, make you feel at ease and like it's really your home away from home.  I would stay here again if my job ever brings me back to the area and highly recommend it to anybody else!  You can't go wrong - it's clean, affordable, comfortable, convenient and safe."
Eric Hipsher calls it  "The very best place to stay in Waynesboro. Very nice rooms and the staff there is great. I would recommended anybody to stay here."
Georgette from Chesapeake says, "ACS helped me to experience smaller living conditions away from my home. Thank you."
Eddie from South Carolina says, "Everything was great - clean, quiet, neat and well-maintained."
Bill and Carol Ann Rhodes from Astor, Florida, says, "The Waynesboro location is close to family in the area and this is a great place to stay. We have been there many times and will stay in the future. The best thing is the rooms are always clean, great staff, the kitchen supplied with the  essentials for a short stay."
Amenities:
More than just a room - everything you need to be productive or just kick back and relax.
Fully equipped kitchen with full-size appliances
HDTV with HBO and DVD player
Free local calls
High-speed Internet access and Wi-Fi

Closed-circuit television monitoring for extra security

Weekly housekeeping with towels and linens
On-premise laundry facilities
Iron and full-sized ironing board
Utilities included
Free onsite parking
Smoke-free and pet-free
No minimum stay
Affordable Corporate Suites - Waynesboro Virginia