Statesville NC Corporate Suites
Statesville NC Corporate Suites
Intersection of I-40 (Exit 148) at Rt. 64
Convenient to I-77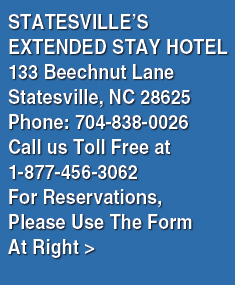 Statesville, North Carolina is home to one of North Carolina's most unique festivals, The Carolina Balloon Fest . This festival combines great entertainment, food, arts and crafts and, of course, hot air balloons.
Affordable Corporate Suites is located just minutes off of Interstate 40 in the west end of the city. This quiet, tree-lined location is located close to shopping, restaurants and most area businesses, such as Kewaunee, ASMO and Doosan.
Our fully furnished suites include all utilities, HDTV with HBO and DVD player, phone service and free high-speed Internet (both Ethernet and Wifi). Weekly housekeeping provides your towels and linens. The separate bedroom has a queen-sized pillow-top bed and large closet. The kitchen has dishes and full-sized appliances. There are laundry facilities on site. All locations are smoke free.
"We were pleased with our stay and the peace and quiet there, clean and comfortable," says Donna Justen of Lillian, AL. "Everything we needed was available. We also appreciated the ability to extend our stay when it was needed for our family bereavement."
Here are some other reviews from satisfied customers:

Average rating:
6 reviews
Jan 5, 2016
Excellent place to stay!!
I stayed 13 weeks in Statesville. Rebecca and Ang (manager and housekeeper) are some of the friendliest people I have met in 2 years of traveling. The suite was clean, neat and well maintained. I didn't encounter any problems but if I would have I know they would have been taken care of! The staff is VERY accommodating! I often saw Rebecca out doing what needed to be done for any residents at the facility. Ang was always available during her shift if anything was needed. These ladies are definitely an asset to the company... Great Job Rebecca and Ang!!
Dec 21, 2015
"Very clean, great staff and manager. I would refer the suites to friends and family."
Jul 29, 2015
Just moving to area and waiting on [people] to get our home ready. Very nice place and very quiet. Staff was excellent.
Apr 18, 2015
The price was very reasonable, the staff were always friendly and top notch!! They did an amazing job cleaning, holding packages for me (or putting them in my room per my request). This location is very quiet as well, very relaxing after working long days. I was on a couple month contract and could not have been happier with my experience here!!
Jan 8, 2015
Our review of this amazing extended stay hotel (and its super friendly manager Rebecca) is best done via video:
http://mylocalvideoreviews.com/video_listing/customer-review-affordable-corporate-suites-extended-stay-hotel-statesville-north-carolina/
We hope the owner keeps adding to his amazing locations!
May 12, 2014
Very nice suites for very affordable rate.
More than just a room – everything you need to be productive or just kick back and relax.
Fully equipped kitchen with full-size appliances
HDTV with HBO and DVD player
Free local calls and personalized voicemail
In-room desk and task chair
High-speed Internet access and Wi-Fi

Closed-circuit television monitoring for extra security

Weekly housekeeping with towels and linens
On-premise laundry facilities
Iron and full-sized ironing board
Utilities included
Free onsite parking
Smoke Free Hotel
No minimum stay
Affordable Corporate Suites – Statesville NC