Position Available: On-Site Hotel Manager, Kannapolis NC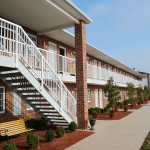 Affordable Corporate Suites (ACS) seeks a full-time resident manager for its newest hotel, located in Kannapolis NC across from the NorthLite shopping center at the Dale Earnhardt Exit on I-85. As you can see from visiting other pages on our website, this is a high quality, fully furnished extended stay hotel (no smoking, no pets).
Our $40,000 annual compensation package includes salary plus bonuses, benefits after 90 days including an excellent company-paid insurance package, and one-bedroom manager's apartment including utilities paid.
As the on-site manager, you MUST live on the property. Office hours are 8 a.m. to 7 p.m. Monday through Friday, 8 to noon on Saturday, with free time the rest of the weekend. After 90 days you are eligible for 2 weeks vacation, subject to acceptance of your plans by management.
We are seeking a mature, hard worker, with practical computer skills, a person who is customer friendly and who will naturally maintain our high cleanliness standards.
You will be responsible for checking in and checking out guests, handling credit card transactions, operating our computer system and general office machines, answering the phone and explaining requirements as well as answering questions.
You will also be responsible for working with a part-time housekeeper for cleaning and maintenance of rooms and property.
As a resident property manager, you will in effect be operating a small business, able to work independently and manage your schedule. You will get to meet a lot of different people as is customary in the hospitality industry. Our corporate management is responsive, caring and attentive to details, and will visit with you on-site typically once a week.
If you would like to apply for this position, send your resume along with a cover letter explaining why you would be a good fit, to Affordable Corporate Suites, 5520 Florist Rd Ste 30, Roanoke VA 24012, or fax it to 540-366-7141 or call 704-788-1652. You can also email your resume and cover letter to aeinns@aol.com, or to the special email address associated with our Craigslist advertisement.