Roanoke VA - Overland Dr - Affordable Corporate Suites
*New Winter Special - 10% Discount on your Stay*
To Make a Reservation, Call 888-334-5920
Daily, Weekly or Monthly Rates!
All fully equipped kitchens 
Separate bedrooms 
Wi-Fi and HDTV
Three apartment sizes to choose from 
Weekly housekeeping 
Laundry facilities on-site 
Exceptional value starting at $225 weekly 
Affordable Corporate Suites is the perfect destination for those needing an extended stay hotel, long stay hotel, weekly hotel, or monthly hotel in Roanoke, VA.
Located just minutes from Tanglewood Mall and major thoroughfare I-581, our Overland Drive property is adjacent to one of the area's most comfortable neighborhoods. This tree-lined property is double the size of most of our facilities due to the convenient location.
Our fully furnished suites include all utilities, HDTV with HBO and DVD player, phone service and free high-speed Internet. Weekly housekeeping provides your towels and linens. The separate bedroom has a queen-sized pillow-top bed and large closet. The kitchen has dishes and full-sized appliances. There are laundry facilities on site. All locations are smoke free.
Read our Reviews or Write a Review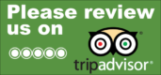 Reviews from our Guests
Glenn (11-7-17): Loved it, felt like a nice mini apartment
Anonymous (11-4-17): Was very clean, including laundry area. Worked great for us.
Becky (10-23-17): We were not sure what to expect when we saw that this motel offered complete suites for at least $100 less per night than other local lodgings. But we were thrilled! Attractive, roomy front room, full kitchen, all as clean as your mother or grandmother would want it to be . Bathroom was clean as could be - even the grout! Comfortable bed, tv's in the front room and bedroom, all within five minutes of one of the major roads in the area. We would definitely stay here again, and encourage everyone else to try it out!
Jeanne (10-23-17): Looking for a place for a football weekend. Jean was wonderful when we checked in over the phone (be aware that there is not staff there 24 hours) and gave us her cell number if we had a problem. Checked in and found the room nicely decorated, more modern than expected, spotless and very comfortable. Slept great, and never heard another guest although there were plenty of cars in the parking lot. The coffee in the room was a nice touch, as were the shampoo, soap and dish soap. Room had a blow dryer which was great, since I forgot mine! TV worked great, plenty of stations. We did not use the wifi. Would definitely stay again. Price was really reasonable and I always worry about cleanliness at that price. This place was cleaner than any place I have ever stayed!
By Martha E. (10-19-17): We were pleasantly surprised at how clean and convenient everything was. We plan to use them again any time we are in Roanoke. Very pleased!
By Sterlingmom (10-16-17): We always stay here when in Roanoke. It is off the main roads but that's fine. Having a separate living room, bedroom and kitchen is great.
By Anonymous (10-10-17): Good clean hotel with kitchenette. The office hours for check in are limited. You should contact the property ahead of time if you need a check-in after 12:00pm on the weekend.
Jacqueline L of Maryland (8-29-17): The rooms are clean, plenty of space,equipped with everything you might need (furnished). Their rates are reasonable. Also I was given a $25 coupon off the next week I stay @ Affordable Corporate Suites. Professional, friendly service.
Desiree of Fayetteville, NC (7-22-17): I booked last minute, and the prices here were pretty cheap compared to the hotel prices in this area. The lady in the office was very nice and offered for me to text her if I needed something after the office was closed for the day. The rooms are like a small apartment. My room smelled great when I walked in and they had the air conditioning running for me. Everything was very clean, the internet works great, and the beds are very comfortable. I really like how the suites are situated on a back road in the woods, but it is right off one of the main roads (Electric Rd). So you feel like you aren't right in the middle of the city, but close enough to everything.
Steve Hurley of West Yellowstone Montana (6-12-17): Great place to stay, everything I needed. Friendly staff, great location for all Roanoke locations.
Tommy Sink of Delray Beach, FL: "Very nice place to stay. Very clean and pleasant environment. Convenient location. I highly recommend it!"
Refest Bobo of Tallahassee, FL: "This is my second stay with Affordable Corporate Suites and both locations, Salem and Overland Drive management was fantastic. This trip was over the July 4th holiday and traffic was horrible. I was traveling with my 8 year old granddaughter and had reservations for Friday and Saturday night. Due to traffic issues, we could not make it on Friday and did not make it until Saturday afternoon. I was afraid to drive over the mountains on Interstate 81 so late at night so we had to spend the night in North Carolina with relatives. I told Jean this just to let her know but not expecting her to not charge for the reservation like most chains would have done. I will use Affordable Corporate Suites the next time I am in town. I was not able to get by the office and Jean  took my credit card information over the phone after my stay and had arrived back at home. It was like staying with a relative. I love Affordable Corporate Suites and the employees that work there are wonderful!!!"
Michael Donodeo says: "I just wanted to take a moment and show my gratitude to the management and staff here at the Roanoke, VA location (Overland Drive). I have stayed here for 3 weeks and it has truly been a pleasure! The management and staff are on top of their game! The establishment is clean, quiet, and very well equipped. I would recommend anybody that needs to stay for an extended length of time here in Roanoke to look no further! You can't beat this place! Thank you all so much!
PS: Housekeeping is also top notch!"
Tommy Sink of Delray Beach, FL, says: "We have stayed in 2 Affordable Suites in the Roanoke, VA area and have been so pleased each time. We were at the Overland Dr location for a week in Feb.  The cleanliness and hospitality are first class. Thanks to Jean for being so accommodating.  Looking forward to staying there again when we are in Roanoke."
Brad of Roanoke, VA, says: "I had the pleasure of staying here in May 2015. The suites were very comfortable/quiet and the staff was very pleasant. I look forward to staying there again in the near future."
Denise Counts: "I just wanted to take the time to thank you Jean (property manager) for everything! I loved my efficiency. It is the most cozy place I have ever stayed! And you should know that you are the Greatest Hostess! I enjoyed meeting and talking with you."
Jane from D.C. says, "The units are nicely appointed with furniture, kitchen supplies, etc. It was a very pleasant experience and very reasonably priced."
David from Wisconsin says, "I travel a lot for my job. This was the best place I have stayed for the money."
Amenities: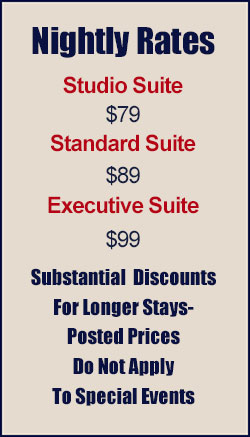 More than just a room - everything you need to be productive or just kick back and relax.
Fully equipped kitchen with full-size appliances
HDTV with HBO and DVD player
Free local calls
High-speed Internet access and Wi-Fi

Closed-circuit television monitoring for extra security

Weekly housekeeping with towels and linens
On-premise laundry facilities
Iron and full-sized ironing board
Utilities included
Free onsite parking
Smoke-free and pet-free
No minimum stay
Affordable Corporate Suites - Roanoke VA - Overland Drive