Lynchburg VA - Affordable Corporate Suites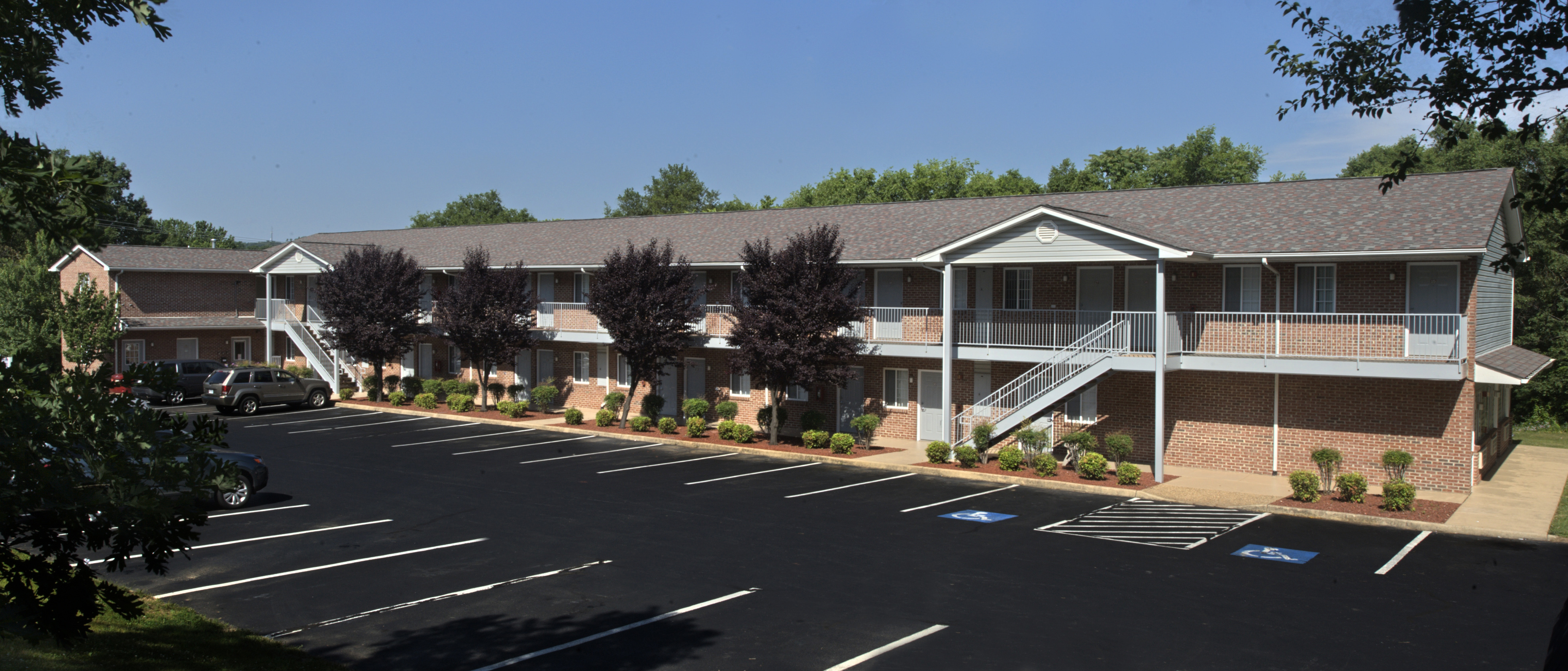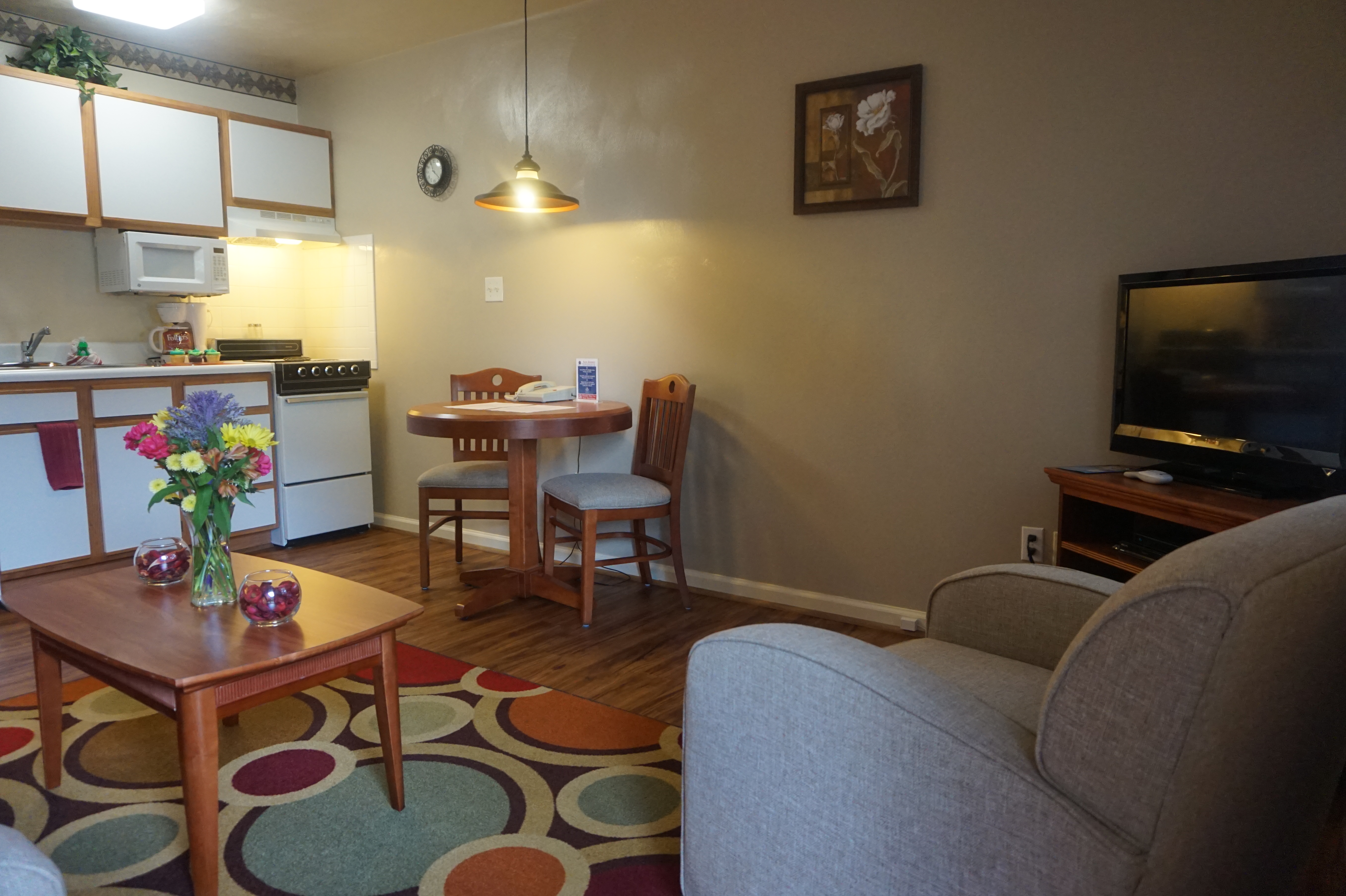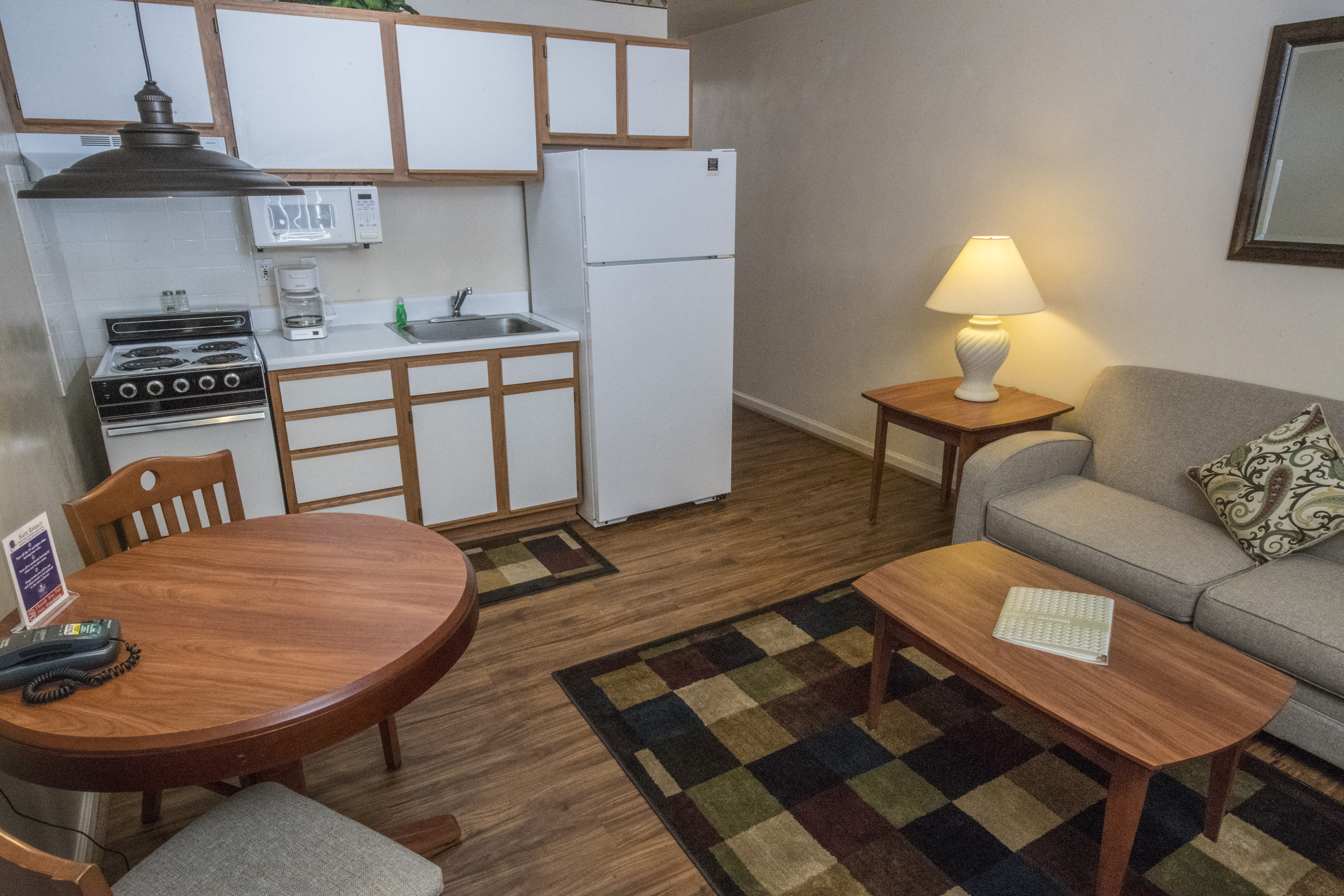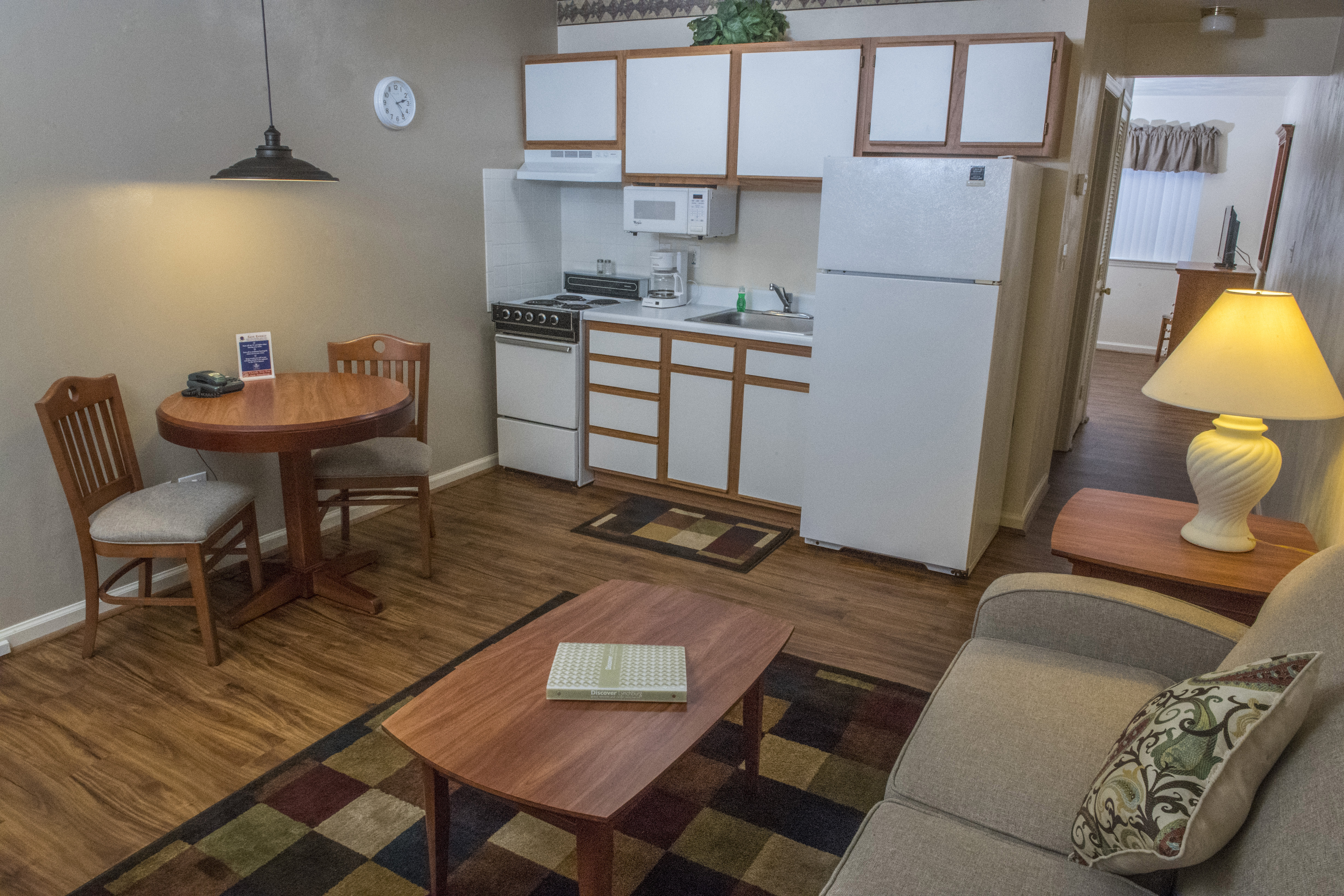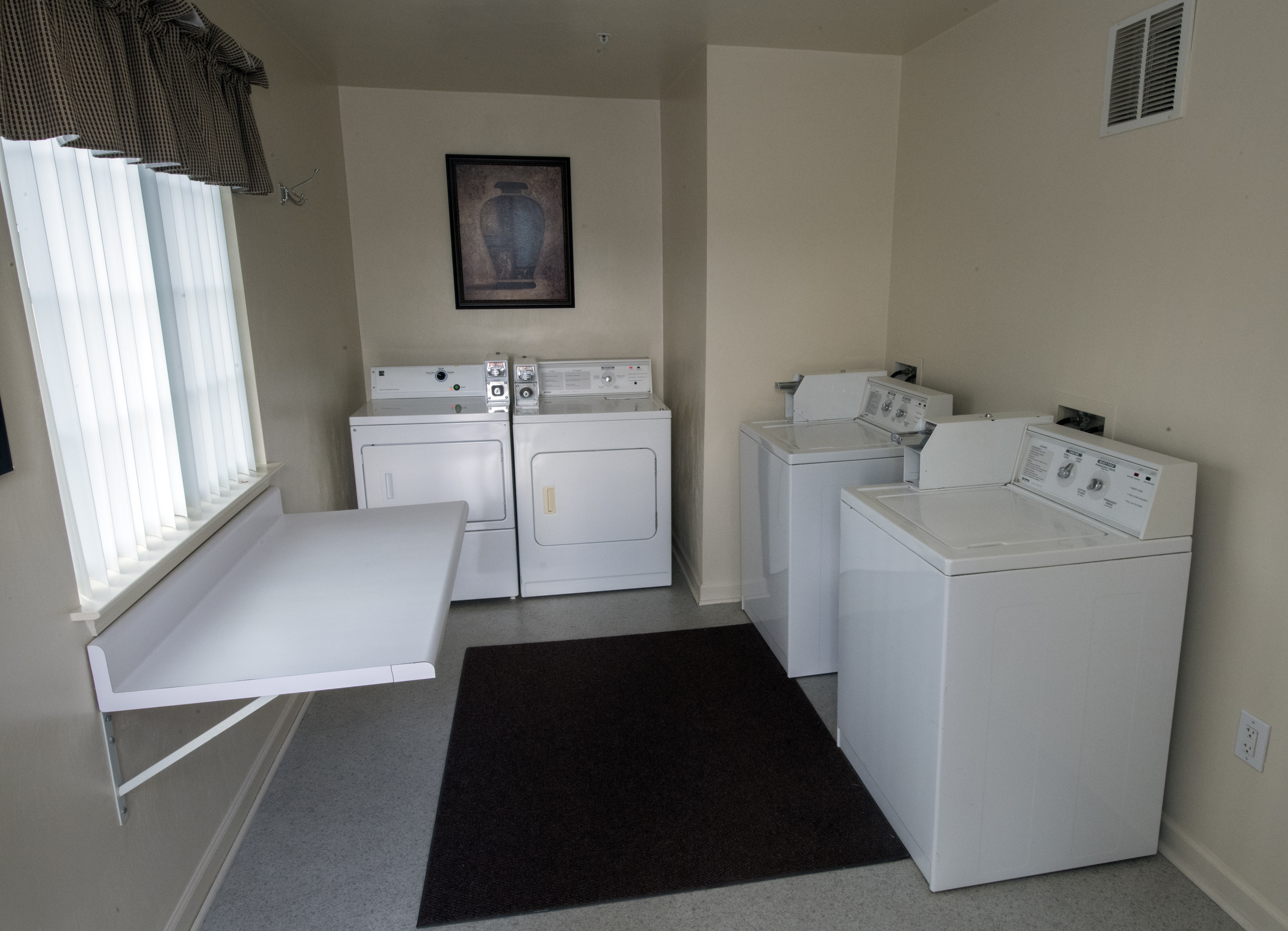 To Make a Reservation, Call 888-334-5918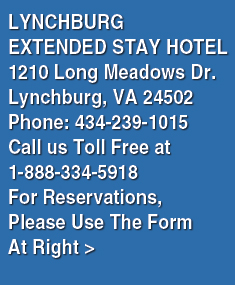 Virginia's "Hill City" is located on the historic James River. But Lynchburg isn't just a river town. It is an award-winning place to live and work. Don't just take our word for it... here is what others have to say:
Sperling's list of Best Places to Live
Inc.com "Boomtown 2007" The Best Cities for Doing Business
Forbes' Magazine Best Places for Business in 2006 and 2007
Newsweek lists Lynchburg's two public high schools among the top public high schools in the country
National Geographic's 2007 Top Small Towns to Live and Play
Men's Journal, in 2007, pronounced Lynchburg #1 of the Top 5 Cleanest Places and one of the "50 best places to live in the United States."
Our property is centrally located near the intersection of Fort Avenue (460 Business) and the 501 Bypass. This quiet location is surrounded by woods. Shopping, grocery and a mall are close-by.
Our fully furnished suites include all utilities, including satellite TV with over 100 Channels, HDTV with HBO and DVD player, phone service and free high-speed Internet (both Ethernet and Wifi). Weekly housekeeping provides your towels and linens. The separate bedroom has a queen-sized pillow-top bed and large closet. The kitchen has dishes and full-sized appliances. There are laundry facilities on site. All locations are smoke free.
So no matter where you look, Lynchburg is a great place to be.
Read Our Reviews or Review Us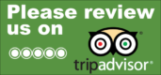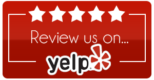 Guest Reviews
Audrey Trujillo Ramon, Lynchburg, VA: Great place to stay. Management is awesome. Miss Helen's at the Lynchburg Affordable Corporate Suite is awesome also. You have a problem she tries to solve it ASAP. They are clean housekeeping is wonderful. It almost makes you feel like you are at home. My husband and I have been staying here until we find a house or apartment that suits our needs we are very happy that we found Affordable Corporate Suites. Could not ask for more comfortable place to stay. If you're looking for a great place to stay; clean and quiet then you need to come too the Affordable Corporate Suites they will fix everything you need to make your stay is wonderful.
Virginia Buel from Pittsburgh, PA, comments: "I stayed at the Affordable Corporate Suites in Lynchburg, VA while visiting my sister. The suite was comfortable and spacious, and having a fully equipped kitchen was a real plus. The rate was a better value than staying at a hotel. I will recommend it to my friends."
Barbara from Statesville, NC, says, "The kitchen is well stocked with everything you need while away from home. There is a stove with oven, as well as a microwave. The refrigerator is large, with a separate freezer.  Everything is very clean; and the weekly housekeeping of the kitchen, bathroom and bedroom makes me feel like I'm on vacation! I'm so glad my husband and I stayed at the Affordable Corporate Suite while in Lynchburg, VA."
Lynwood from Virginia says, "We were pleasantly surprised and pleased with the accommodations and the professionalism of the staff. The Manager attended to our every need from beginning to end of stay."
Jud from Texas says, "We loved staying there and would do it again. The manager was great."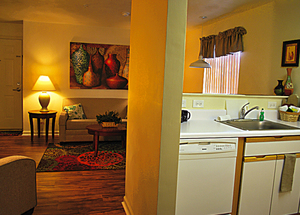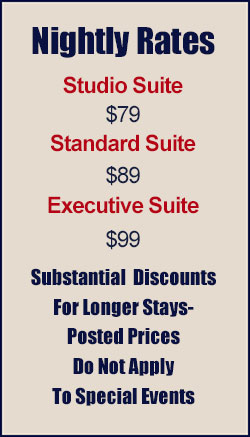 Amenities:
More than just a room - everything you need to be productive or just kick back and relax.
Fully equipped kitchen with full-size appliances
Satellite TV with over 100 Channels
HDTV with HBO and DVD player
Free local calls
High-speed Internet access and Wi-Fi

Closed-circuit television monitoring for extra security

Weekly housekeeping with towels and linens
On-premise laundry facilities
Iron and full-sized ironing board
Utilities included
Free onsite parking
Smoke-free and pet-free
No minimum stay
Affordable Corporate Suites - Lynchburg VA