Kannapolis NC Corporate Suites
Kannapolis NC Corporate Suites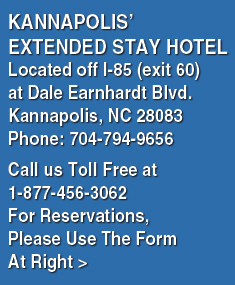 Our newest property is conveniently located near the Northlite Shopping Center, within walking distance of a variety of popular restaurants including Ruby Tuesday, Logan's Roadhouse, Cracker Barrel, MacDonalds, Wendy's, and Johnny Carino's Italian Grill. Sam's Club, WalMart, Lowe's and Kohls are also within walking distance.
Kannapolis is a thriving city of 40,000 located along the I-85 corridor, in the heart of the dynamic Charlotte metro region. Kannapolis is less than 30 minutes from I-77, Uptown Charlotte, Charlotte Douglas International Airport and the University of North Carolina Charlotte. Home to the NC Research Campus, Kannapolis and the surrounding area offers a host of activities and resources for both business and leisure travelers. Whether it's a visit to Lowe's Motor Speedway to catch a race, Concord Mills to do a little shopping or the Davis Theatre to take in a Broadway revue – there's something for every member of your family.
Transportation to and from our property is made even more convenient by close access to a nearby Rider Transit System stop, which provides transit connections to all major areas of Cabarrus County. So you don't even need your own vehicle to enjoy the comfort and conveniences of Affordable Corporate Suites in Kannapolis.
Every suite has a full-sized kitchen, separate bedroom, HDTV with HBO and DVD player, laundry facility and free high speed Internet (both Ethernet and Wifi). Every room is non-smoking!

Kannapolis, NC Customer Reviews:
Katie from Minnesota says, "I live in hotels. This is the best place I have ever stayed – super clean and wonderful management."
Frances from North Carolina says, "Raved about you on my Facebook page. The manager treated us like royalty and we are referring you to everyone."
Our Kannapolis hotel now has 5 suites equipped with new high-quality sofabeds that allow traveling work crews to sleep two workers per room to save money. While most of our rooms only have one queen-size bed for individuals or couples, these 5 ground-floor rooms will allow your workers to stay for under $40 ($20 per person) a night based on weekly pricing!
Amenities:
More than just a room – everything you need to be productive or just kick back and relax.
Fully equipped kitchen with full-size appliances
HDTV with HBO and DVD player
Free local calls
High-speed Internet access and Wi-Fi

Closed-circuit television monitoring for extra security

Weekly housekeeping with towels and linens
On-premise laundry facilities
Iron and full-sized ironing board
Utilities included
Free onsite parking
Smoke-free and pet-free
No minimum stay
Located off I-85 (Exit 60) at Dale Earnhardt Blvd.