Kannapolis NC Corporate Suites
Kannapolis NC Corporate Suites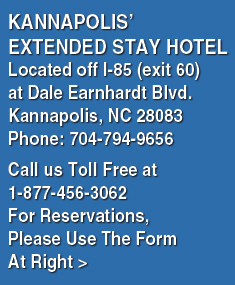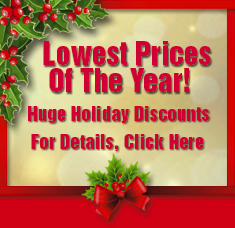 Our newest property is conveniently located near the Northlite Shopping Center, within walking distance of a variety of popular restaurants including Ruby Tuesday, Logan's Roadhouse, Cracker Barrel, MacDonalds, Wendy's, and Johnny Carino's Italian Grill. Sam's Club, WalMart, Lowe's and Kohls are also within walking distance.
Kannapolis is a thriving city of 40,000 located along the I-85 corridor, in the heart of the dynamic Charlotte metro region. Kannapolis is less than 30 minutes from I-77, Uptown Charlotte, Charlotte Douglas International Airport and the University of North Carolina Charlotte. Home to the NC Research Campus, Kannapolis and the surrounding area offers a host of activities and resources for both business and leisure travelers. Whether it's a visit to Lowe's Motor Speedway to catch a race, Concord Mills to do a little shopping or the Davis Theatre to take in a Broadway revue – there's something for every member of your family.
Transportation to and from our property is made even more convenient by close access to a nearby Rider Transit System stop, which provides transit connections to all major areas of Cabarrus County. So you don't even need your own vehicle to enjoy the comfort and conveniences of Affordable Corporate Suites in Kannapolis.
Every suite has a queen-sized pillow-top bed and large closet, and Standard and Executive Suites have separate bedrooms. Each suite also has a full-sized kitchen, HDTV with HBO and DVD player, laundry facility and free high speed Internet (both Ethernet and Wifi). Every room is non-smoking!

Click here to submit your review.
---
---
Very clean and quiet place to visit or stay for a extended time. The manager, Caroline, has been accommodating and willing to work with me to enhance
Sep 22, 2014
by
jennifer fraley
Where You Live - City & State: Kannapolis nc •
Location Being Reviewed: Kannapolis nc
Very clean and quiet place to visit or stay for a extended time. The manager, Caroline, has been accommodating and willing to work with me to enhance my stay. The housekeeper, Shannon, works very hard to ensure room cleanliness and to make sure you are taken care of. I definitely would recommend this facility to anyone visiting the area short term or for a extended stay.

---
For the price, this place was great. Caroline and Shannon were so helpful to accommodate us and work with our dates. It was very clean, quiet and clos
Aug 07, 2014
by
Marcie Concepcion
Where You Live - City & State: Burke, Va. •
Location Being Reviewed: Kannapolis
For the price, this place was great. Caroline and Shannon were so helpful to accommodate us and work with our dates. It was very clean, quiet and close to everything we needed. We would definitely stay here again.

---
Kannapolis, NC Customer Reviews:
Cat Cain of Minnetonka, Minnesota: "Truly 5 stars for this efficiency hotel that has wonderful touches and nice open spaces with a caring, friendly staff and manager, Caroline, who take great pride in their hotel. We needed an efficiency hotel and were hoping to find one that was clean and affordable and we found so much more! The efficiency hotels I've been in, in the past, were not as nice as this one. I found out about this place 3 years ago via a Google search, but didn't get a chance to stay there until this year, when I called and found out all the info from Caroline. It's tucked away on a private road so it's quiet & well lit and it's next to Walmart, many restaurants and businesses so it's close to everything you need. It was also very close to most of our family, so that was very nice for us. The staff care about their hotel and work hard at keeping it extremely clean, stocked well and very nicely decorated. When I first called to get info and price quotes on ACS, I spoke with Caroline, the manager. Talking with her is like speaking to a family member, she's so warm, personable, friendly & funny; we spoke a few times, while I was trying to get exact dates pinned down and we figured out what we wanted. Caroline worked with us so well and got us the perfect room for what we needed (we had 3 people in our party and needed some privacy in our sleeping situation). We'd been driving for 2 days from Minnesota, so she had us call her about 20 minutes before we arrived and our room was all set up for us and so inviting, beds turned down for us and everything! Caroline even had directory type books with info about things to do, places to go, etc. She had thought of it all! The rooms are a generous size, so it was very comfortable, full size kitchen with dishes, pots, pans, glasses, toaster, etc., that made it easy to make meals and eat in some of the time we were there. The bathroom is huge, has a medicine and storage cabinet and is set up for handicapped access. There is a nice size closet with ironing board and iron, in the hall way between the bedroom and kitchen/living area. The bedroom is really big, huge dresser, nice flat screen tv, and the sleeper sofa where our friend slept was on the other side of the hotel room with her own flat screen tv, so we had some privacy when we were sleeping. This is a great place to stay, especially if you want a homey type place where you can live more as you do at home, cook, relax, etc. We will definitely be staying there again in the future. This is definitely the place to stay in the Concord/Kannapolis area. :)"
Allison Ferrier of Newark, DE: "We enjoyed our stay. The staff was nice and flexible. We will stay there again in the future. Thank you."
Verlyn Evans, High Point NC: "I have been a resident at this site for several months due to temporary employment in the area. I have stayed at various larger chain extended stays and this site is by far the cleanest and quietest temporary setting that I have lived in. The manager Caroline is very attentive to your needs while constantly updating items in the suite to increase your level of comfort. The housekeeper Shannon does an excellent job cleaning the rooms and providing a spotless environment to live in. If you are ever in the area, this is an excellent choice for a very comfortable home away from home!"
Linda and James Cronin, Carson City NV: "We had the pleasure of staying at the Kannapolis NC property. Caroline, the manager is a gem. Committed to seeing that their guests are taken care of. She went out of her way to see that we had everything we needed. You should be proud that she is employed by your company. Shannon, the house keeper, whenever we saw her, asked if we needed anything. Please let these two dedicated women know how special they are. Thank you, The Cronin's."
Katie from Minnesota says, "I live in hotels. This is the best place I have ever stayed – super clean and wonderful management."

Frances from North Carolina says, "Raved about you on my Facebook page. The manager treated us like royalty and we are referring you to everyone."
Our Kannapolis hotel now has 5 suites equipped with new high-quality sofabeds that allow traveling work crews to sleep two workers per room to save money. While most of our rooms only have one queen-size pillow-top bed for individuals or couples, these 5 ground-floor rooms will allow your workers to stay for under $40 ($20 per person) a night based on weekly pricing!
Amenities:
More than just a room – everything you need to be productive or just kick back and relax.
Fully equipped kitchen with full-size appliances
HDTV with HBO and DVD player
Free local calls
High-speed Internet access and Wi-Fi

Closed-circuit television monitoring for extra security

Weekly housekeeping with towels and linens
On-premise laundry facilities
Iron and full-sized ironing board
Utilities included
Free onsite parking
Smoke-free and pet-free
No minimum stay
Located off I-85 (Exit 60) at Dale Earnhardt Blvd.