Kannapolis NC Corporate Suites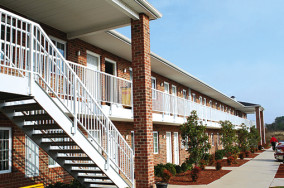 KANNAPOLIS NC CORPORATE SUITES
Located Off I-85 (exit 60) at Dale Earnhart Blvd.
Kannapolis NC 28083 • Phone 704-794-9656
Call Toll Free 1-877-456-3062
For Reservation Requests, Please Use The Form
At The Bottom Of This Page (Scroll Down)
Our newest property is conveniently located near the Northlite Shopping Center, within walking distance of a variety of popular restaurants as well as WalMart, Lowe's and Kohls.
Kannapolis is a thriving city of 40,000 located along the I-85 corridor, less than 30 minutes from Uptown Charlotte. Home to the NC Research Campus, Kannapolis and the surrounding area offer a host of activities and resources for both business and leisure travelers, such as Charlotte Motor Speedway and Concord Mills, the state's most popular tourist attraction
Transportation to and from our property is made even more convenient by close access to a nearby Rider Transit System stop, which provides transit connections to all major areas of Cabarrus County.
Every suite has a queen-sized pillow-top bed and large closet, and Standard and Executive Suites have separate bedrooms. Each suite has a full-sized kitchen, HDTV with HBO and DVD player, and free high speed Internet (both Ethernet and Wifi). Every room is non-smoking. A laundry facility is on site.
Reservation Request Form