Hotel Near Charlotte Motor Speedway
Limited Time Offer - Only $249 A Week In Concord!
Only $249 a week to enjoy all the benefits of our beautiful Standard Suite, including separate bedroom, full-size kitchen, and much more. A big savings compared to nightly rates! Available at our Concord location only for a limited time, based upon availability.
Fill out the Reservation Request form on this page or call us  at 704-788-1652 now! Mention "Limited Time Offer" for lowest price. Discounts do not apply to special events in the area.
Affordable Corporate Suites – Concord – Near Charlotte Motor Speedway
Concord extended stay hotel
2675 Concord Farms Road
Concord, NC 28027
Phone: 704-788-1652
For Reservations, Please Use The Form At Right >
Call us Toll Free at 1-877-456-3062
Or Locally at 704-788-1652
Affordable Corporate Suites is a Concord NC hotel near Charlotte Motor Speedway and Concord Mills. Our hotel is also near Charlotte NC and UNCC. It's located just a couple of miles north of Charlotte Motor Speedway on Highway 29 at Concord Farms Road. You can get there in minutes from I-85 via Bruton Smith Boulevard (also known as Speedway Boulevard).
As an extended stay hotel, our Concord facility offers special low rates for a week or more. Savings are typically 50% off of nightly rates. Standard and Executive suites have separate bedrooms, and all have a full kitchen as well as a host of amenities.
This is not a cheap Concord motel. Our prices reflect our low corporate overhead and common-sense approach for the business traveler – no swimming pool, restaurant or meeting rooms. Our suites are exceptionally clean, smoke free and pet free – they always smell fresh and all furnishings are in excellent condition. Most people are genuinely wowed when they enter one of our suites for the first time.
Be sure to visit the home page of our website to learn more, then come back to this page to make your reservation requests. Expect to say "Wow" when you enter your Affordable Corporate Suites in Concord!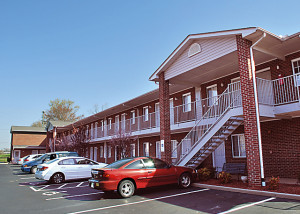 Amenities:
More than just a room – everything you need to be productive or just kick back and relax.
Fully equipped kitchen with full-size appliances
HDTV with HBO and DVD player
Free local calls
High-speed Internet access and Wi-Fi
Weekly housekeeping with towels and linens
On-premise laundry facilities
Iron and full-sized ironing board
Utilities included
Free onsite parking
Smoke-free and pet-free
No minimum stay