Concord NC Corporate Suites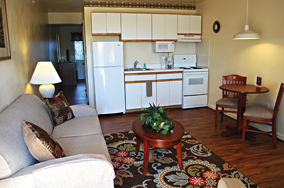 2675 Concord Farms Road Concord, NC 28027
For Reservations, Please Use The Form At Bottom Of Page
Call Toll Free 1-877-456-3062 <tap to call
Or Locally at 704-788-1652 <tap to call
Affordable Corporate Suites in Concord is just north of Charlotte and 2 miles from Charlotte Motor Speedway, the unofficial home of NASCAR racing. The area also includes the Concord motorsports park, the new drag strip "Z-Max", and many race-related attractions.
In addition, North Carolina's most popular tourist attraction, Concord Mills Mall is just 3 miles away, offering an impressive array of name-brand discount stores and wonderful restaurants. You can pan for gold at nearby Reed Gold mine. And downtown Charlotte is only 20 minutes away.
You'll find our fully furnished suites provide you with a truly comfortable, spacious, clean and affordable "home away from home." Every suite has a queen-sized pillow-top bed and large closet, and Standard and Executive Suites have separate bedrooms. Every suite has a kitchen with dishes and full-sized appliances. Many people say the large suites are more like apartments than hotel rooms.
Our Concord hotel now has 5 suites equipped with new high-quality sofabeds that allow traveling work crews to sleep two workers per room to save money.  While most of our rooms only have one queen-size pillow-top bed for individuals or couples, these 5 ground-floor rooms will allow your workers to stay for under $40 ($20 per person) a night based on weekly pricing!
Standard nightly rates are $69 for Studio Suite, $79 for Standard Suite, and $89 for Executive Suite. Substantial discounts are available for longer stays, so please discuss when the manager calls you. All utilities are provided in all rooms, including HDTV with HBO and DVD player, phone service and free high-speed Internet (both Ethernet and Wifi). Weekly housekeeping gives you fresh towels and linens. Laundry facilities are on site. All locations are smoke free. This is the best hotel value in the entire Concord area.
Scroll down below the map for the Reservations Form.
Tap "View On Google Maps" below to launch Google maps on your mobile phone.
To View Rates & Make A
Reservation, Click Button:


For More Information,
Use This Form: