Our Locations
Affordable Corporate Suites has hotels - all extended stay facilities - in the following locations. Click on the links below to learn more and request a reservation:
NORTH CAROLINA
• Concord
• Kannapolis
• Statesville
VIRGINIA
• Christiansburg
• Harrisonburg
• Lynchburg
• Roanoke-Florist Rd.
• Roanoke-Overland Dr.
• Roanoke-Lanford St.
• Salem
• Waynesboro

Our Gift To You!
We want you to feel truly welcome as our guest here at Affordable Corporate Suites. So we provide you a Welcome Basket containing all you need for a hot breakfast prepared in the comfort and convenience of your own personal kitchen.

Click on coupon image for discount offer.
Welcome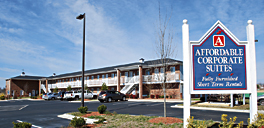 Affordable Corporate Suites
provides large, upscale accommodations with all the amenities you need to live your life while you're on the road. With eleven locations in Virginia and North Carolina, our guests find our suites convenient for business travel, relocation, temporary housing or vacations.
Free yourself from the confines
of your average hotel room. Every suite has a full sized kitchen so you can cook and eat on your own schedule. Our welcoming gift basket (in photo at left) has all you need for a hot breakfast in your room. A separate bedroom makes it more comfortable... more like home. Spend more time relaxing and less money on your next trip for business or leisure.
Our extended stay amenities
include queen-size beds in every suite, weekly housekeeping service providing towels and linens, expanded HD cable TV with HBO in both the living and bedroom, DVD players, laundry facility, telephone, fax and copying service and free high-speed Internet.
Now offering units with 2 beds!
Take a tour of our suites to see what we mean - Click on the PICTURES menu above.
What You Can Expect
When you first step into your suite at Affordable Corporate Suites, we expect you will say "Wow! This is much nicer than I expected." Because that is what almost everyone says or thinks the first time they enter one of our units.
The reason: We work hard to exceed your expectations!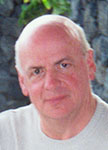 Hi, I'm Lance Copperman, president and owner of Affordable Corporate Suites. I built this chain of small extended-stay hotels in Virginia and North Carolina over the past 20 years to meet what I saw as an unmet need in the marketplace: Clean, reliable, affordable extended stay hotels for business travelers, families and the guests of local companies and residents.
Take my word: you will not find a better combination of quality, price and service in or near the cities and towns we serve. Here's what I'm talking about: (Read more)
Latest Testimonial
"I just wanted to take a moment and show my gratitude to the management and staff at the Roanoke, VA location (Overland Drive). I have stayed here for 3 weeks and it has truly been a pleasure! The management and staff are on top of their game! The establishment is clean, quiet, and very well equipped.... You can't beat this place! Thank you all so much!" -Mike